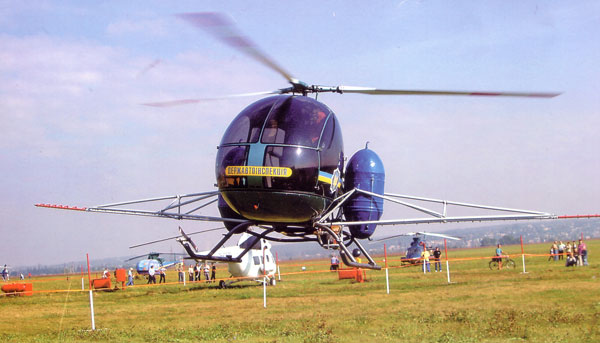 AK 1-3 is a single-rotor helicopter. Its main frame is atube truss structure which carries the cockpit made of composite materials, the power unit, the main gear box, and the tail boom with tail unit and anti-torque rotor.

The cockpit is designed to accommodate two crew members. The cockpit width at shoulder level is 1200 mm ( 1055 mm for R.22 modification). Large window provide a good all-round visibility for the pilots. The pilots seats are of non-adjustable type equipped with waist and shoulder straps.


The flight and navigation instruments enable flights in normal dalight conditions using visual flight rules. Optionally, the helicopter can be equipped with a GPS and a flight data recorder. The main rotor has three flexible-mounted blades. The blades are made of composite materials, have non-linear radial twist and variable thickness/chord ration.
The anti-torque rotor hast two blades and one common flapping hinge. The anti-torque rotor blades are made of composite materials.

AK1-3CX ( view large picture ) is a modification of the basic model designed for aerial spraying of chemicals on crops at a rate of 1 to 40 liters per hectare.
The design and geometry of the modified helicopter are identical to those basic model. The helicopter is equipped with quick-detachable facilities for liquid chemicals spraying, including the ULV technique. These facilities include two tanks ( 140 liters each ) mounted on either side of the cockpit, spray bars with struts, a centrifugal pump, connection hoses, and a control unit. The total weight of the facilities is 34 kg.
Liquid chemicals loading is accomplished via a centrifugal pump with an output capacity of 125l/min. Loading requires approximately 2 minutes.
To avoid aliquation of the operating fluid ( liquid chemicals ), which can result in spray nozzle clogging and crop burns, the tanks are equipped with special devices, which provide hydrodynamic mixing of the operating fluid
The helicopter cockpit is a good vent-filtered containment equipped with a vent system with special filters.